For English and for German scroll down.
De strekking van dit onlangs verschenen boek wordt hier in een aantal bondige stellingen aangeduid.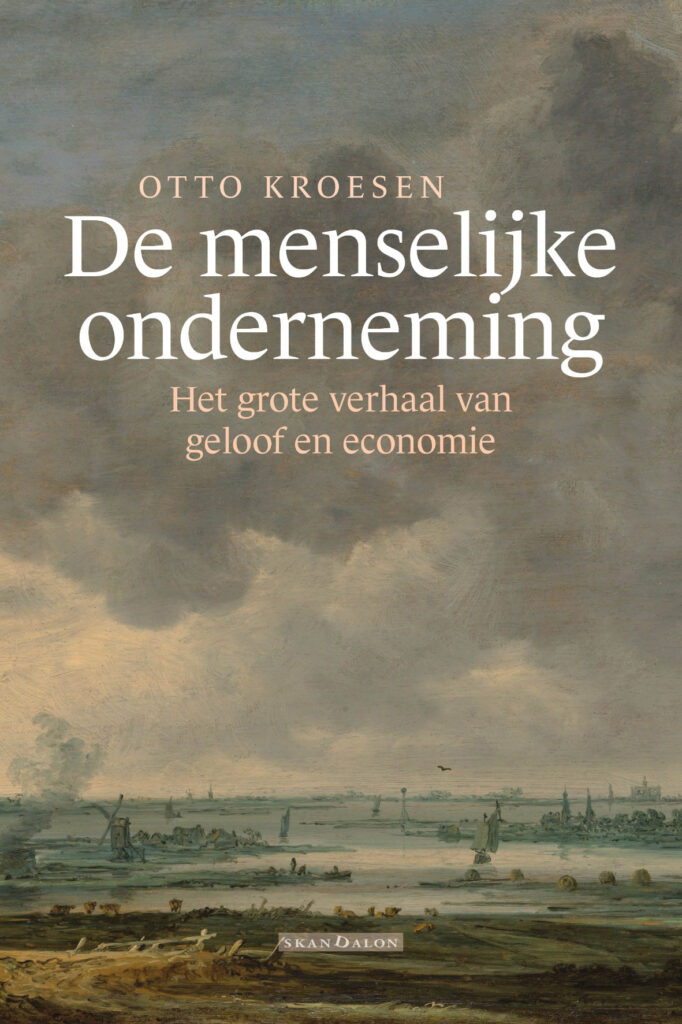 1. Elke samenleving heeft een eigensoortig geloof in de vorm van vaststaande waarden en zienswijzen. Dat geldt heel de geschiedenis door. De waarden van nu zijn de goden van vroeger. De goden van vroeger zijn de waarden van nu.
2. Op historische hoogtepunten hebben nieuwe waarden, zienswijzen, woorden aan de samenleving een andere marsroute gegeven. Een andere ordening komt tot bloei. De stammen hebben geluisterd naar het gezag van de voorouders. Rijken zoals Egypte hebben gehoorzaamd aan keizers en sterren. Israël heeft profetisch een gerechtigheid geclaimd die nog komende is.
3. De taal is gevormd door de geestelijke machten en ervaringen die ons "zelf" gevormd hebben. Taal geeft binding aan het verleden, aan elkaar en openheid naar de toekomst. De taal die we spreken is zelf een verzameling richtinggevende woorden en gezaghebbende machten.
4. De christelijke stem kan alleen gehoord worden binnen een groter geheel van stemmen uit verschillende culturele of religieuze tradities. Juist de christelijke stem geeft het ritme aan: wanneer is ophouden nodig en opnieuw beginnen? Kruis en opstanding, vertaling van het ene tijdperk in het andere, vanuit het nieuwe het oude hernemen, is kenmerkend christelijk.
5. Steeds opnieuw zijn mensen door hiërarchische aansturing kort gehouden en/of hebben ze als radertjes in de machine zelf de gemakkelijkste weg gekozen (de vleespotten van Egypte). Steeds opnieuw dreigt de proletarisering. Men kan dan alleen nog maar praten over de dingen van de dag. Men gaat situaties mijden die om verantwoordelijk handelen vragen.
6. Groter worden, volwassenen spreken en leven voor de lange duur vraagt erom bewust de stemmen van het verleden tot zich te nemen en de waarden en namen en geestelijke machten van het verleden in de huidige tijd opnieuw te belichamen. Alleen wie echt geluisterd heeft, heeft ook zelf wat te zeggen.
7. De kerk en haar boodschap zijn naar de achtergrond gedrongen. Maatschappelijke krachten nemen de beslissingen. Deze plaats van de kerk op de achtergrond en de maatschappij op de voorgrond is kenmerkend voor het tijdperk van de Geest. Dat verandert de missie van de kerk. De kerk heeft niet de leiding maar geeft oriëntatie vanuit de achtergrond.
8. Als anonieme radertjes in de machine roepen mensen om identiteit en saamhorigheid. Kort gehouden mensen zoeken compensatie in almachtmythen en complotdenken. Mensen genezen door kleine ondernemingen, vooral in de economie, die van ieder verantwoordelijkheid vragen, en waarin verschillende bijdragen elkaar corrigeren en levend houden. De stam in de politiek leidt tot fascisme; de stam op economisch gebied leidt tot creatieve interactie.
De menselijke onderneming: het grote verhaal van geloof en economie

Otto Kroesen (voormalig studentenpastor en docent cross-cultureel entrepreneurship)
2022, Skandalon, 350 blz., € 32,50
Otto Kroesen
The human enterprise: the great story of faith and economics
The thrust of this recently published book is indicated here in a few concise statements.
1. Every society has a belief of its own in the form of fixed values and views. This is true throughout history. The values of today are the gods of the past. The gods of the past are the values of today.
2. At historical high points, new values, views, words have given society a different marching order. Another order comes to fruition. Tribes have listened to the authority of ancestors. Empires like Egypt have obeyed emperors and stars. Israel has prophetically claimed a righteousness yet to come.
3. Language has been shaped by the spiritual powers and experiences that have shaped our "selves." Language gives bonding to the past, to each other and openness to the future. The language we speak is itself a collection of guiding words and authoritative powers.
4. The Christian voice can only be heard within a larger set of voices from different cultural or religious traditions. It is precisely the Christian voice that sets the rhythm: when is it necessary to stop and start again? Cross and resurrection, translation from one era into another, from the new into the old, is characteristically Christian.
5. Again and again, people have been cut short by hierarchical control and/or, like cogs in the machine themselves, have chosen the easiest path (the meat pots of Egypt). Again and again proletarianization threatens. One can then only talk about the things of the day. One starts avoiding situations that call for responsible action.
6. Growing up, speaking as adults and living for the long haul requires consciously taking to oneself the voices of the past and re-embodying the values and names and spiritual powers of the past in the present. Only those who have truly listened have something to say themselves.
7. The church and its message have been pushed into the background. Social forces make the decisions. This place of the church in the background and society in the foreground is characteristic of the age of the Spirit. This changes the mission of the church. The church is not in charge but gives orientation from the background.
8. Like anonymous cogs in the machine, people cry out for identity and belonging. Short-tempered people seek compensation in omnipotence myths and conspiracy thinking. People heal through small enterprises, especially in economics, which demand responsibility from each participant, and in which different contributions correct and keep each other alive. The tribe in politics leads to fascism; the tribe in economics leads to creative interaction.
Das menschliche Unternehmen: die große Geschichte von Glaube und Wirtschaft
Die Stoßrichtung dieses kürzlich erschienenen Buches wird hier in einigen knappen Thesen wiedergegeben.
1. Jede Gesellschaft hat ihren eigenen Glauben in Form von festen Werten und Ansichten. Das gilt für die gesamte Geschichte. Die Werte von heute sind die Götter der Vergangenheit. Die Götter der Vergangenheit sind die Werte von heute.
2. Auf historischen Höhepunkten haben neue Werte, Ansichten und Worte der Gesellschaft einen anderen Marschbefehl gegeben. Ein weiterer Auftrag kommt zum Tragen. Die Stämme haben auf die Autorität der Vorfahren gehört. Reiche wie Ägypten haben Kaisern und Sternen gehorcht. Israel hat prophetisch eine noch zu erwartende Gerechtigkeit eingefordert.
3. Die Sprache ist von den geistigen Kräften und Erfahrungen geprägt, die unser "Selbst" geformt haben. Die Sprache schafft Verbundenheit mit der Vergangenheit, mit den Anderen und Offenheit für die Zukunft. Die Sprache, die wir sprechen, ist selbst eine Sammlung von Leitwörtern und autoritativen Mächten.
4. Die christliche Stimme kann nur innerhalb eines größeren Kreises von Stimmen aus verschiedenen kulturellen oder religiösen Traditionen gehört werden. Es ist gerade die christliche Stimme, die den Rhythmus vorgibt: Wann ist es notwendig, aufzuhören und neu anzufangen? Kreuz und Auferstehung, die Übersetzung von einer Epoche in eine andere, die Rückgewinnung des Alten aus dem Neuen, das ist typisch christlich.
5. Immer wieder sind Menschen durch hierarchische Kontrolle zu kurz gekommen und/oder haben, wie Rädchen in der Maschine selbst, den einfachsten Weg gewählt (die Fleischtöpfe Ägyptens). Immer wieder droht die Proletarisierung. Man kann dann nur noch über die Dinge des Tages reden. Man fängt an, Situationen zu vermeiden, die ein verantwortungsvolles Handeln erfordern.
6. Um erwachsen zu werden, erwachsen zu sprechen und langfristig zu leben, muss man die Stimmen der Vergangenheit bewusst zu sich nehmen und die Werte, Namen und spirituellen Kräfte der Vergangenheit in der Gegenwart neu verkörpern. Nur diejenigen, die wirklich zugehört haben, haben auch etwas zu sagen.
7. Die Kirche und ihre Botschaft sind in den Hintergrund getreten. Die gesellschaftlichen Kräfte treffen die Entscheidungen. Diese Stellung der Kirche im Hintergrund und der Gesellschaft im Vordergrund ist charakteristisch für das Zeitalter des Geistes. Dies verändert den Auftrag der Kirche. Die Kirche ist nicht führend, sondern gibt aus dem Hintergrund Orientierung.
8. Wie anonyme Rädchen in der Maschine schreien die Menschen nach Identität und Zugehörigkeit. Kurzatmige Menschen suchen Ausgleich in Allmachtsmythen und Verschwörungsdenken. Die Menschen heilen durch kleine Unternehmungen, vor allem in der Wirtschaft, die von jedem Verantwortung verlangen und in denen unterschiedliche Beiträge sich gegenseitig korrigieren und am Leben erhalten. Der Stamm in der Politik führt zum Faschismus; der Stamm in der Wirtschaft führt zu kreativer Interaktion.